It's 12:20am and I have to get up at 6am to volunteer for a local 5k. See what I did there? I didn't say run a 5k, I said volunteer at a 5k. Mmm hmm. And that's how you get out of those sort of things.

So anyhoo, I'm stalking all the people who posted Friday's Letters because really, they're my favorite. This week there was over 200 bloggers linking in and it's just so fun to read through them all. I get sucked in and thats how it's 12:20am and I'm still awake. So one thing leads to another and I find this: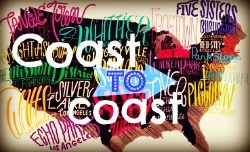 This lovely lady had the brilliant idea of making a map of bloggers, Bloggers Coast to Coast, so you can find other bloggers that are in your area. How cool is that? I couldn't not share. So head over there and add your link! I can't wait to see what awesome bloggers might be in my neck of the woods.
Off to bed.
No but really.
Okay just a few more minutes.