I'm just on a roll with posts this week, huh?
Two days of double posts!
(as I pat myself on the back)
As my blog friends are on a quest to make me feel special this week
(I mean, I'm practically famous these days)
I've been guest posting like a mad woman.
I'm spilling about all the stuff I didn't learn in college.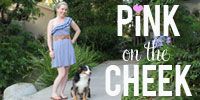 I don't need to spend a bazillion dollars to go on a sweet vacation.
Thanks for having me, Lauren and Tina!
I really shouldn't be allowed to have this much attention all in one week.
Wouldn't want it to go to my head.