This week I'm linking up for another edition of Sunday Social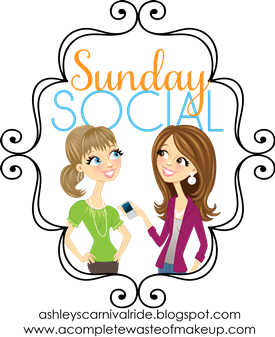 Top 3 Favorite Kinds of Food
1. Pizza. Duh.
2. In my non-vegetarian days, my very favorite recipe was for Kaylin Casserole. It's THE most AMAZING casserole every made, created entirely by Kaylin's Mom. It's the recipe I miss the most, by far. It's super easy to make, give it a try:

1lb. Ground Beef
1 Small Onion, finely chopped
1 Rectangle of chopped spinach, thawed and drained
1 can cream of celery soup
1 16oz. container of sour cream
1 cup of uncooked instant white rice
1 bag of shredded monterrey jack cheese (a blend is also fine)

Brown the ground beef and the onion together. Dump it into a large casserole dish. Add the thawed and drained spinach to the casserole dish, as well as 1 cup uncooked instant white rice. Yes, uncooked. It will cook in the oven with the juices from the other stuff. Add the can of cream of celery soup and the sour cream.

Mix all of that together in the casserole dish and then spread it out. Top it off with a bag of cheese. Cook for 20-25 minutes on 350 degrees.
3. Sushi. You can't keep me away from the spicy tuna. You just can't.
First 3 Things you do in the morning
1. Let Archie out of his crate. Be immediately made to feel like the most special and awesome person on the planet (aren't dogs awesome?)
2. Turn the Keurig on and brew a cup while I let Archie out
3. Make Nav breakfast and pack his lunch. Is he super lucky or what?
Last 3 Things you do at night
1. Lay in bed and talk to Nav for 5-60 minutes. Bother him about random things like, "what do you think of the name Joel for our future son?" "do you think we're going to use our gym membership this month?" (no) "did you lock the side door? are you sure? are you positive?"
2. Nav rolls over and goes to bed. Then we play argue for 10-15 minutes about how he can't sleep with the light on but I can't sleep without reading before bed. He steals the covers, I steal them back. I put my cold feet on his legs and he freaks out and tickles me to death for 5 minutes til I cry and then finally he goes to sleep.
3. I read until I fall asleep with my kindle on my face.

3 TV shows you NEVER miss
1. Grey's Anatomy
2. New Girl
3. The Mindy Project

3 Places you want to visit
1. Japan
2. Some place in the Caribbean where I can sit on a white sandy beach
3. Europe again, mostly Italy and Greece

I've been places!
3 People you can always count on
1. Nav
2. My parents (all 4!)
3. Curt

Since the very beginning
4. Kaylin – Not only did she fly all the way to London to visit me while I was studying abroad in Paris. But she also talked me down from a horrible panic attack. On the London Eye.

That's all folks! I hope you had a wonderful weekend.
I'll be super jealous of all of you who have the day off tomorrow.