This is a Sponsored post written by me on behalf of Bahama Breeze for SocialSpark. All opinions are 100% mine.
Our version of "going out" has changed drastically in these last few years. The things that used to sound fun every weekend only sound fun every once in a while. Truth be told, anytime past 11pm I pretty much want to be curled up on my couch.
What we're really into now? Dinner and drinks with friends. No raging until late in the night. Just a couple cocktails, lots of appetizers, and some good music. It's been our thing this past year.
Every time, in the car on the way home, N and I wonder aloud together if we should still be going "out" and if we're growing up too fast. Then we quickly decide, nope, we're very happy with what we're doing these days. We want to sit outside with friends, be able to actually talk to each other, enjoy fantastic food, and buy cocktails we'll actually enjoy. It's crazy how this grown up thing actually feels way normal to us now.
So these days, we're always on the lookout for low-key stuff to do with friends. Two weekends ago it was a beer festival. And now that summer has officially arrived, we'll be heading to Bahama Breeze for the Bahama Breeze Summer Beach Bash.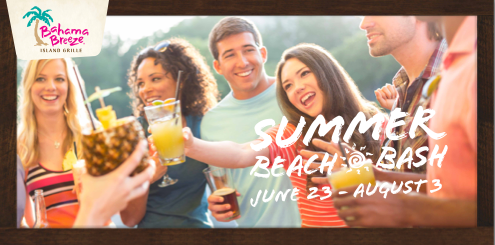 This Summer, from June 23rd to August 3rd, Bahama Breeze restaurants nationwide are hosting a Summer Breeze Bash. Every Saturday head to Bahama Breeze to find live music from 4-8pm (did they make those hours just for us?). They bring out the mojito bar and you choose your fruit, rum, and the bartenders will muddle the perfect cocktail. Mojitos aren't your thing? Try their new signature cocktail, the Bahama Breeze Ultimate Pineapple. You guys, it comes in an actual pineapple. Until we can afford an actual Caribbean vacation, I'll just keep drinking these.
Bahama Breeze is the summer destination for good times. It's got everything you need for the perfect Saturday with friends: fabulous food, creative cocktails, and live entertainment. Visit Bahama Breeze between now and August 3rd to experience the Summer Beach Bash for yourself!
While you're there, don't forget to enter the Instagram Selfie Contest. Have amazing selfie skills? While you're enjoying yourself at the Summer Beach Bash, snap a selfie and use the hashtag #MyBBSelfie and be entered to win a $25 Bahama Breeze gift card. Come on, you know you want to.