This week I'm linking up for another edition of Sunday Social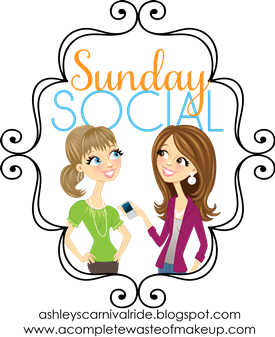 Top 3 Favorite Kinds of Food
1. Pizza. Duh.
2. In my non-vegetarian days, my very favorite recipe was for Kaylin Casserole. It's THE most AMAZING casserole every made, created entirely by Kaylin's Mom. It's the recipe I miss the most, by far. It's super easy to make, give it a try:

1lb. Ground Beef
1 Small Onion, finely chopped
1 Rectangle of chopped spinach, thawed and drained
1 can cream of celery soup
1 16oz. container of sour cream
1 cup of uncooked instant white rice
1 bag of shredded monterrey jack cheese (a blend is also fine)

Brown the ground beef and the onion together. Dump it into a large casserole dish. Add the thawed and drained spinach to the casserole dish, as well as 1 cup uncooked instant white rice. Yes, uncooked. It will cook in the oven with the juices from the other stuff. Add the can of cream of celery soup and the sour cream.

Mix all of that together in the casserole dish and then spread it out. Top it off with a bag of cheese. Cook for 20-25 minutes on 350 degrees.
3. Sushi. You can't keep me away from the spicy tuna. You just can't.
First 3 Things you do in the morning
1. Let Archie out of his crate. Be immediately made to feel like the most special and awesome person on the planet (aren't dogs awesome?)
2. Turn the Keurig on and brew a cup while I let Archie out
3. Make Nav breakfast and pack his lunch. Is he super lucky or what?
Last 3 Things you do at night
1. Lay in bed and talk to Nav for 5-60 minutes. Bother him about random things like, "what do you think of the name Joel for our future son?" "do you think we're going to use our gym membership this month?" (no) "did you lock the side door? are you sure? are you positive?"
2. Nav rolls over and goes to bed. Then we play argue for 10-15 minutes about how he can't sleep with the light on but I can't sleep without reading before bed. He steals the covers, I steal them back. I put my cold feet on his legs and he freaks out and tickles me to death for 5 minutes til I cry and then finally he goes to sleep.
3. I read until I fall asleep with my kindle on my face.

3 TV shows you NEVER miss
1. Grey's Anatomy
2. New Girl
3. The Mindy Project

3 Places you want to visit
1. Japan
2. Some place in the Caribbean where I can sit on a white sandy beach
3. Europe again, mostly Italy and Greece

I've been places!
3 People you can always count on
1. Nav
2. My parents (all 4!)
3. Curt

Since the very beginning
4. Kaylin – Not only did she fly all the way to London to visit me while I was studying abroad in Paris. But she also talked me down from a horrible panic attack. On the London Eye.

That's all folks! I hope you had a wonderful weekend.
I'll be super jealous of all of you who have the day off tomorrow.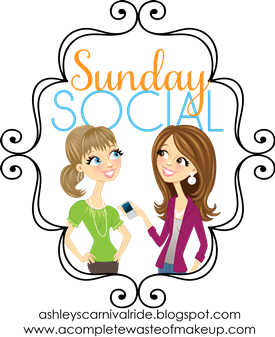 This week's Sunday Social is all about books! I can't wait to go around and get tons of recommendations from everyone. If you did Sunday Social too, leave a comment with a link to your answers!
1. Favorite Childhood Book:
Are You There God, It's Me Margaret.
I'm sure this will be on a lot of favorites lists. I read this book at the perfect time in my pre-pubescent life. I know I'm not the only girl who tried a few rounds of "We must, we must, we must increase our bust!"
2. Favorite Book Lately:
I recently read the book Those Who Save us by Jenna Blum. I have a crazy love for historical fiction, particularly anything about WWII or the Holocaust. Those Who Save Us rivals Sarah's Key as my favorite in this category. It tells the story of a young woman who has an affair with a Jewish man during the rise of Hitler. Just read it, I promise you won't regret it.
3. Book You Wish You Could Live In:
Harry Potter. Duh. I've spent way too much time thinking about what house I would be sorted into. Maybe not Gryffindor cause I'm a huge wuss.
4. If you could be any character from a book, who would you be and why?
Hermione. She's brilliant and brave. Two traits I wish I had more of.
5. Favorite Book Turned movie:
Harry Potter again. Are we seeing a theme here? Yes, they are by far my favorite books and I am currently re-reading Harry Potter and the Order of the Phoenix.
6. Favorite Magazines:
Time (I read every issue cover to cover), US Weekly, People, Glamour, Marie Claire, Allure
I'm linking up for another week of Sunday Social.
If you're stopping by and you're new, Welcome!
Follow me on GFC and leave a comment with a link to your Sunday Social.
I'll return the favor and come visit.
Now let's get started, shall we?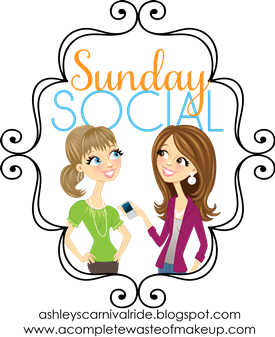 1. 5 items you can't live without on a daily basis(water, food, shelter, and clothes don't count)
1. Mascara. Even if I don't wear any other makeup, I wear this.
2. Rainbow Flip Flops. I wear these around my house like slippers and running errands. They are at least 7 years old but they are perfectly broken in.
3. Purpose Face Wash. Since the days of teenage acne, I've been a compulsive face washer. This stuff is the most gentle but effective you can buy. It was recommended to me by my dermatologist in 7th grade and I've used it ever since.
4. Netflix/Hulu. If you thought I was one of those people who spend their lives reading and doing more important things than catching up with McSteamy, pulling my hair out over who "A" is while trying to figure out how all the Pretty Little Liars get such good hair, and wondering when Jess and Nick are going to get together, you'd be wrong. I get my money's worth, yo.
5. A Good Book. I just can't fall asleep without reading. Two pages in and I'm out like a light.
2. All time favorite book? Why?
I'd love to say something like To Kill a Mockingbird (which would be almost true) or Pride and Prejudice (which would be a bold faced lie), but in reality, it's
I can't imagine a book series that is so entertaining, inventive, and still teaches strong values.
I'm re-reading the Harry Potter and the Order of the Phoenix now and I can't put it down.
3. Something you'd like to accomplish before the end of 2012
I want to get a puppy! This has been a long time coming, folks. It's not a decision I take lightly and it's something I'm fully ready to commit myself to. I've got my heart set on a Golden Retriever. We've got a puppy reserved for a litter which will be ready to come home in November. Fingers crossed everything goes okay!
Here are the names we've thrown around:
Rupert (I can only say this with a British accent)
Wyatt (a strong contender with the fam, I'm a little iffy)
Do you have any others to add? Give me feedback! Is Sherlock too silly?
4. If you could go back and relive any year of your life which year would it be?
I really don't think I would want to relive any year.
Before recently, I would probably have said some year of college that I'd like to relive.
And sure, I had a blast. But I'm pretty settled in to my life now. I bet in a few years I look back and THIS year is the year I'd want to relive.
5. What do you wish people knew about you without you having to tell them?
I really hate explaining where I'm "from" to people.
I was born in Delaware, lived there til I was 7.
Moved to Maine, lived there til I was 12.
Lived in two cities there.
Moved back to the east coast after college.
All my family is on the east coast.
Now if you were me, where would you say you were "from"?
It's such an easy question but it's so hard to answer.
1. What is your favorite Fall activity?
Drinking pumpkin flavored beverages.
The Pumpkin Spice Latte is just about the only thing I really love from Starbucks.
Actually being able to drink any hot beverage and not sweat.
2. Do you follow a football team? If so which one and why?
If you don't know who this is, we can't be friends.
Okay not really. But he sure helps motivate me to watch.
Really I lived in Maine as a kid (til I was 12) and my mom married my stepdad Mike, an avid Boston fan. He raised me to love the Patriots and the Red Sox.
3. What is something fun about Fall in your area?
We actually have 4 season here!
I'm glad that Summer doesn't last all the way until the end of October as it did where I lived in Cali.
4. Fav Fall outfit staples?
Pulling out my boots and bringing back layering!
There are so many more outfit combo options in the fall since you usually need a light piece of outerwear.
During the Summer I always forget about all the cute winter clothes I have (because I box them away by season). Then when I open the box it's like OH my, I forgot I had this! And this is so cute! It's like shopping for the items all over again.
Also I'm about 2.5 seconds away from buying these bad boys
5. Thing you are looking forward to most about this coming Fall season?
In a few weeks I'm headed to Portland, Maine to visit my family. Have you ever been to Maine?
It is an absolutely beautiful place.


The best part though? I get to see some of the best people I know.
Parents! Brown hair stage.
Grammy, Bella, Juliet, Pim, and Mike. We're dog people, can't you tell?
Juliet proving once again, just how human human she actually is.
And I can't find any pictures of my brother Curt but let me tell you, I'm always excited to see him.
Do you ever just feel so so so lucky that one of your favorite people in the world is actually your sibling?
That they are the person you are MOST related to?
Siblings are built in best friends.
So I'm really excited to see him too.
6. Favorite Fall holiday? Traditions?
Am I the only one who can only think of Thanksgiving for this one?
Who cares. I'm not really a fan of either.
I've always hated Thanksgiving food.
Can't we have sushi instead?
If its past Halloween, I'm playing Christmas music anyways.
This Sunday is a new link up, Sunday Social. I'm so excited to find new blogger friends through this awesome link up. Each Sunday will be 6 new questions.




How did you come up with your blog name?
Funny that this is the first question, given the um transformation last week. I originally knew I wanted to write a blog, after being an avid blog reader for over a year. I couldn't think of anything I LOVED as the title so I went with what I thought my blog would be about. Fancy Frugal was created because I love china and antiques but also getting everything for under $15. After a few months of blogging, I realized that I actually didn't talk about those things nearly as much as I thought I would. I needed something a bit more general that really fit me better. And thus (last week),

Back East Blonde

was born.

What is your favorite thing about blogging?
I really like the network of bloggers that are so supportive of each other. Whenever someone follows me or comments, I always check out their blogs and follow them back. I love having so much new material to read every day and finding women like myself all over the country (and even the world). I also love reading about people with lives wildly different from my own. For instance, I love reading blogs by women with children (mommy bloggers, if you will). I feel like I'm educating myself for the future.

What is one thing you have discovered because of blogging and now cant live without?
When I first started blogging, I couldn't figure out how other bloggers did a lot with their pictures. For the record, I still don't get a lot of it. I did discover picmonkey.com which I love because you don't need to download anything and you can do all the stuff I didn't understand like add numbers or text to pictures. It's also really good for making your own buttons or headers. And it's so easy!

Facebook or Twitter? and why?
Twitter. I don't get Facebook "pages" as opposed to a profile. It just doesn't work the same. I feel like twitter is so much more interactive and I like that I can communicate directly with readers and with other blog authors.

If one celeb read your blog who would you want it to be?

What is something you want people to know about your blog?
I write about my life. It's not always exciting but it's always honest. And I care, probably a little too much.